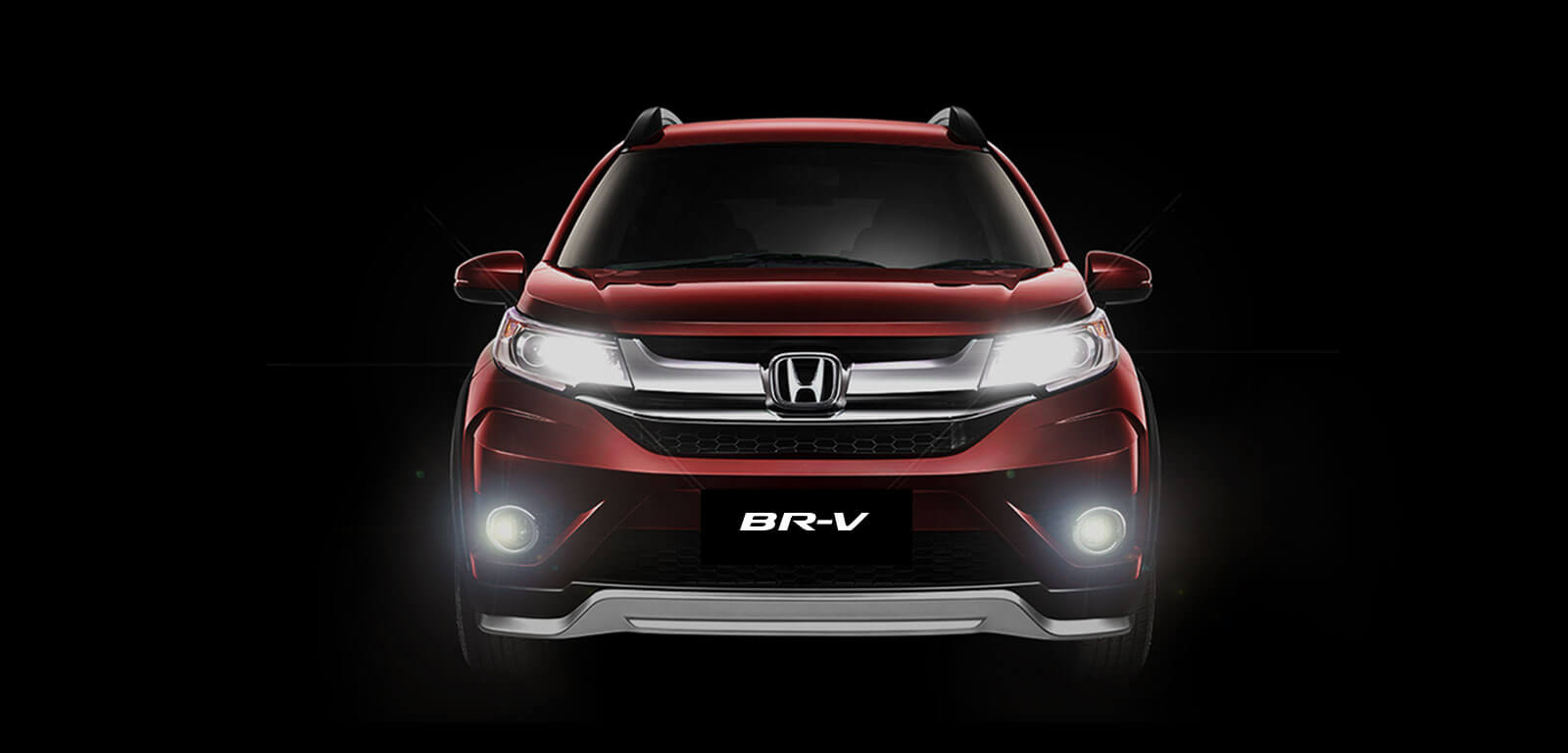 Features
Color Variants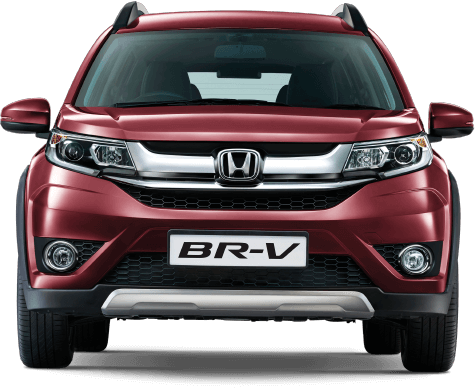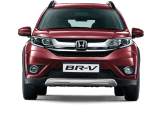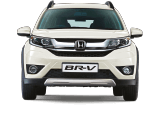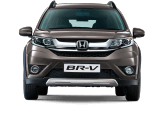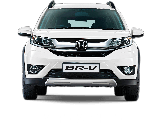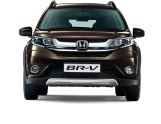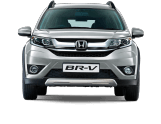 Engine & Performance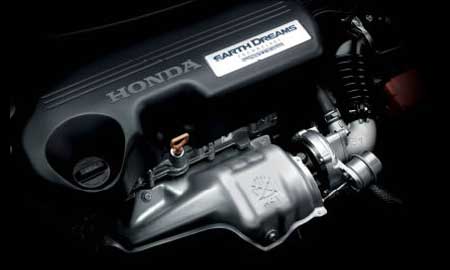 i-DTEC DIESEL ENGINE
Honda's revolutionary 1.5L i-DTEC diesel engine, from the Earth Dreams Technology Series, is nothing short of an engineering marvel, offering you an unparalleled mileage of 21.9 kmpl and an exhilarating power of 100 ps.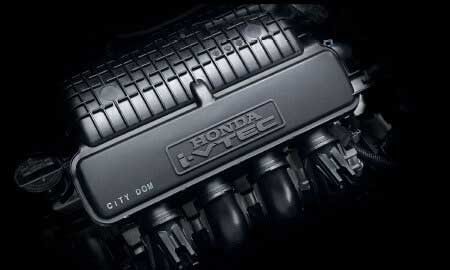 i-VTEC PETROL ENGINE
Honda's legendary 1.5L i-VTEC petrol engine gives you a fierce combination of high power output and class leading fuel efficiency, offering you an unparalleled mileage of 15.4 kmpl and an exhilarating power of 119 ps.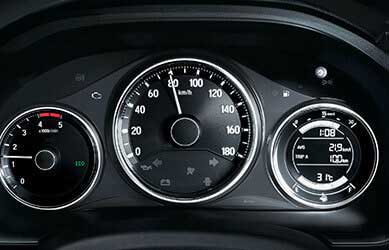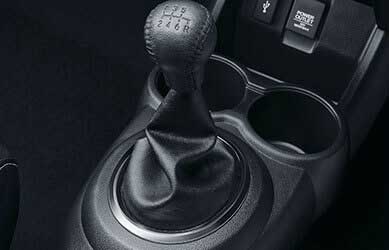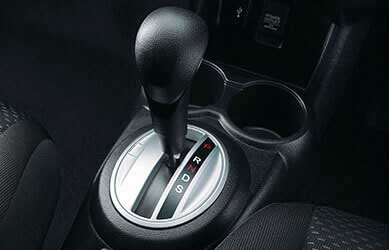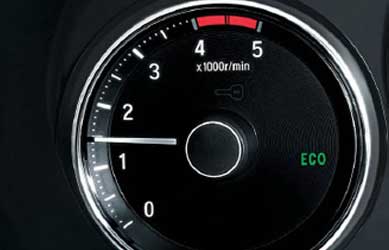 Safe, Sturdy, Unshakeable
The all new BR-V sets a high standard in care and safety with its exclusive ACETM body structure that enhances self protection while mitigating damage to other vehicles in the event of a collision.

The Dual SRS Airbags
These instantly inflate in the event of a collision, giving you the cushioning you and your co-passengers will need.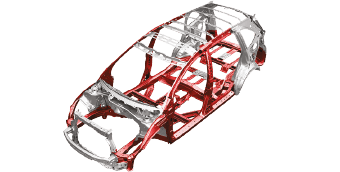 ACE™ Body Structure
BR-V provides cutting-edge protection and safety in every trip. Its ACE™ body structure enhances self protection while mitigating damage to other vehicles in the event of a collision.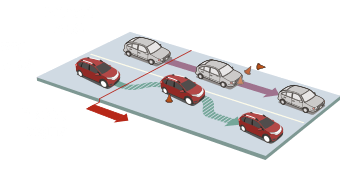 ABS with EBD
The advanced Anti-lock Braking System (ABS) prevents wheels from locking during emergency braking. Electronic Brake-force Distribution (EBD) functions to distribute braking power according to the vehicle load.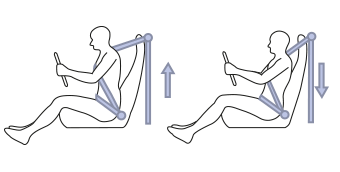 Pre-tensioner Seat belts with load limiter
During a collision, the Pre-Tensioner seatbelt automatically tightens to keep the passenger's body in position; avoiding jerky forward chest movement. The Load Limiter functions to reduce excessive pressure, injuries to the chest and also ensures that the body is in position to fall directly on the airbag as it inflates.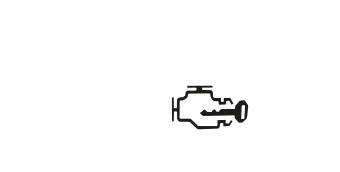 Immobiliser Anti-Theft system
MODES OF HUNT
(Features and Accessories shown here, may vary from the Original model.)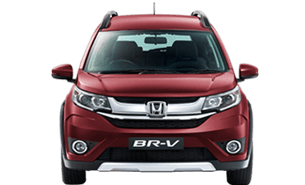 E
Front Dual SRS Airbags
ABS with EBD (Only Diesel)
Projector Headlamps
LED Tail Light Guide
Chrome Front Grill & Rear Chrome Garnish
Roof Rails
Body Color Door Mirror & Door Handles
Adjustable Headrests (All 3 rows)
2nd Row 60:40 Split Seats with Recline
3rd Row 50:50 Split Seats with Recline
Digital AC Controls
Eco Lamp
Front and Rear Power Window
Tilt Steering
Keyless Entry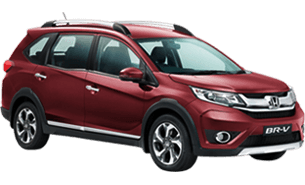 S
(In addition to E-Variant)
Advanced 2DIN Integrated Audio (AM/FM, MP3, USB & Aux-in)
Bluetooth Connectivity & HFT
Steering Mounted Audio Controls
2nd Row Slide
ABS with EBD (PE & DE)
Auto AC
Rear AC Vents
Driver Seat Height Adjuster
Electrically Adjustable ORVM
Premium Seat Fabric
Rear Defogger
Rear Wiper with Washer
Door Centre Sash Black Tape
Trim Wheel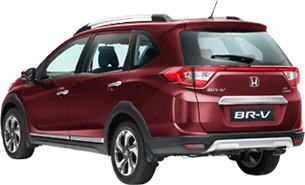 V
(In addition to S-Variant)
Push Start With Smart Entry
Alloy Wheels
Paddle Shift (CVT Only)
Electrically Foldable ORVM
Turn Indicators on ORVM
Sporty 3D Speedometer with Multi-Information Display
Front Fog Lamps
2nd Row Centre Armrest
Security Alarm
Front/Rear Mudguards
Tweeters
Auto Door Lock By Speed
Impact Sensing Auto Door Unlock
Chrome Door Handles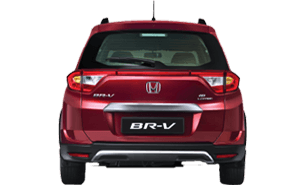 VX
(In addition to S-Variant)
LED Position Lamps
Leather Seats
Leather Wrapped Steering Wheel
Leather Gear Shift Knob
Leather Pad on Door Armrest
Front and Rear Bumper Lower Garnish
Chrome Side Protector
Heat Absorbing Windshield
Front Power Window Auto Up (Driver)
DECKED UP AND EQUIPPED
With a rear guard, tail gate spoiler, seat cover PVC, parking sensors with display on IRVM and seat side console, the Honda BR-V comes equipped with world class accessories.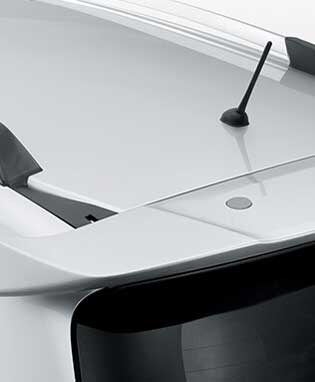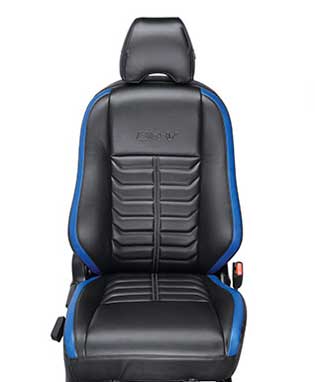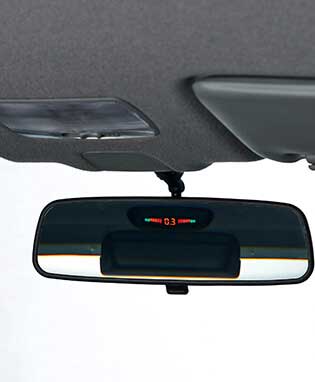 PARKING SENSOR WITH LED DISPLAY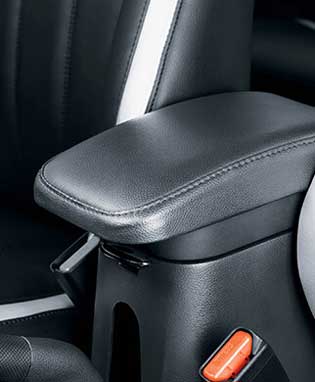 SPECIFICATION
Engine Performance
| | | |
| --- | --- | --- |
| | MT | CVT |
| Type | 4 Cylinder, SOHC i-VTEC | 4 Cylinder, SOHC i-VTEC |
| Displacement (CC) | 1497 | 1497 |
| No. of Valves | 16 | 16 |
| Power (PS @ rpm | 119 @ 6600 | 119 @ 6600 |
| Torque(NM @ rpm) | 145 @ 4600 | 145 @ 4600 |
| Fuel Efficiency (kmpl)* | 15.4 | 16 |
Transmission
| | | |
| --- | --- | --- |
| | MT | CVT |
| Manual | 6 Forward & 1 Reverse | - |
| Automatic | - | CVT (Continuously Variable Transmission) |
Dimensions & Weight

Steering, Suspension & Brake System
| | | |
| --- | --- | --- |
| | MT | CVT |
| Type | Collapsible Electric Power Steering | Collapsible Electric Power Steering |
| Turning Radius (m) | 5.3 | 5.3 |
Suspension System
| | | |
| --- | --- | --- |
| | MT | CVT |
| Front | McPherson Strut Coil Spring | McPherson Strut Coil Spring |
| Rear | Torsian Beam Coil Spring | Torsian Beam Coil Spring |
Brake System
| | | |
| --- | --- | --- |
| | MT | CVT |
| Front | Disc | Disc |
| Rear | Drum | Drum |
Features
Projector Headlamps
o
o
o
o
o
LED Tail Light Guide
o
o
o
o
o
Chrome Front Grille
o
o
o
o
o
Rear Chrome Garnish
o
o
o
o
o
Front/Rear Wheel Arch Cladding
o
o
o
o
o
Side Sill Cladding
o
o
o
o
o
Body Color Door Mirror
o
o
o
o
o
Outside Door Handle
Body Colored
Body Colored
Chrome
Chrome
Chrome
Rear Wiper with Washer
-
o
o
o
o
Door Centre Sash Black Tape
-
o
o
o
o
16" Alloy Wheels
-
-
o
o
o
Turn Indicators on ORVM
-
-
o
o
o
Front/Rear Mudguards
-
-
o
o
o
LED Position Lamps
-
-
-
-
o
Front and Rear Bumper Lower Garnish
-
-
-
-
o
Chrome Side Protector
-
-
-
-
o
Heat Absorbing Windshield
-
-
-
-
o
Seating Versatility
E
S
V
V CVT
VX
Adjustable Headrests (All 3 rows)
o
o
o
o
o
Driver Seat Height Adjuster
-
o
o
o
o
2nd Row 60:40 Split Seats
o
o
o
o
o
2nd Row Recline
o
o
o
o
o
3rd Row 50:50 Split Seats
o
o
o
o
o
3rd Row Recline
o
o
o
o
o
3rd Row Fully Foldable
o
o
o
o
o
Comfort & Conveneince
E
S
V
V CVT
VX
Push Start With Smart Entry
-
-
o
o
o
Advanced 2DIN Integrated Audio
(AM/FM, MP3, USB & Aux-in)
-
o
o
o
o
Bluetooth Connectivity
-
o
o
o
o
Hands Free Telephone
-
o
o
o
o
Steering Mounted Audio Controls
-
o
o
o
o
FR & RR Speakers
-
o
o
o
o
Digital AC Controls
o
o
o
o
o
Electrically Adjustable ORVM
-
o
o
o
o
Electrically Foldable ORVM
-
-
o
o
o
Front and Rear Power Window
o
o
o
o
o
Front Power Window Auto Down (Driver)
o
o
o
o
o
Front Power Window Auto Up (Driver)
-
-
-
-
o
2nd Row Centre Armrest
-
-
o
o
o
Auto Door Lock By Speed
-
-
o
o
o
Seat Pack Pocket
-
As Slide
Dr & As Slide
Dr & As Slide
Dr & As Slide
Vanity Mirror
-
As Slide
Dr & As Slide
Dr & As Slide
Dr & As Slide
Cup Holders in Centre Console ( 3 Nos)
o
o
o
o
o
3rd Row Cup Holder
o
o
o
o
o
Front & Rear Door Bottle Holders
o
o
o
o
o
Head Light Off Reminder
o
o
o
o
o
Ignition Key Reminder
o
o
o
o
o
Cabin Light ( 2 Nos)
o
o
o
o
o
Seat Upholstery Material
Fabric
Premium Fabric
Premium Fabric
Premium Fabric
Leather
Leather Wrapped Steering Wheel
-
-
-
-
o
Leather Gear Shift Knob
-
-
-
-
o
Leather Pad on Door Armrest
-
-
-
-
o
Sporty 3D Speedometer with
Multi Information Display
-
-
o
o
o
Average Fuel Consumption Display
o
o
o
o
o
Instantaneous Fuel Consumption Display
-
-
o
o
o
Cruising Range Display
o
o
o
o
o
Trip Meter
Single
Single
Dual
Dual
Dual
Outside Temperature Display
-
-
o
o
o
Meter Illumination Control
o
o
o
o
o
Silver Garnish on Front AC Vents
o
o
o
o
o
Instrument Panel Garnish
-
Metal Black
Cool Mesh
Cool Mesh
Cool Mesh
Piano Black Finish on Centre Console
o
o
o
o
o
Silver Inside Door Handle
o
o
o
o
o
Safety & Security
E
S
V
V CVT
VX
Front Dual SRS Airbags
o
o
o
o
o
ABS With EBD
Diesel
o
o
o
o
Front Fog Lamps
-
-
o
o
o
Impact Sensing Auto Door Unlock
-
-
o
o
o
Front Seatbelt Pretensioner with Load Limiter
o
o
o
o
o
High Mount Stop Lamp
o
o
o
o
o
Driver Seat Belt Reminder
o
o
o
o
o
Engine Performance
| | |
| --- | --- |
| | MT |
| Type | 4 Cylinder, DOHC i-VTEC |
| Displacement (CC) | 1498 |
| No. of Valves | 16 |
| Power (PS @ rpm | 100 @ 3600 |
| Torque(NM @ rpm) | 200 @ 1750 |
| Fuel Efficiency (kmpl)* | 21.9 |
Transmission
| | |
| --- | --- |
| | MT |
| Manual | 6 Forward & 1 Reverse |
| Automatic | - |
Dimensions & Weight

Steering, Suspension & Brake System
| | |
| --- | --- |
| | MT |
| Type | Collapsible Electric Power Steering |
| Turning Radius (m) | 5.5 |
Suspension System
| | |
| --- | --- |
| | MT |
| Front | McPherson Strut Coil Spring |
| Rear | Torsian Beam Coil Spring |
Brake System
Features
Projector Headlamps
o
o
o
o
o
LED Tail Light Guide
o
o
o
o
o
Chrome Front Grille
o
o
o
o
o
Rear Chrome Garnish
o
o
o
o
o
Front/Rear Wheel Arch Cladding
o
o
o
o
o
Side Sill Cladding
o
o
o
o
o
Body Color Door Mirror
o
o
o
o
o
Outside Door Handle
Body Colored
Body Colored
Chrome
Chrome
Chrome
Rear Wiper with Washer
-
o
o
o
o
Door Centre Sash Black Tape
-
o
o
o
o
16" Alloy Wheels
-
-
o
o
o
Turn Indicators on ORVM
-
-
o
o
o
Front/Rear Mudguards
-
-
o
o
o
LED Position Lamps
-
-
-
-
o
Front and Rear Bumper Lower Garnish
-
-
-
-
o
Chrome Side Protector
-
-
-
-
o
Heat Absorbing Windshield
-
-
-
-
o
Seating Versatility
E
S
V
V CVT
VX
Adjustable Headrests (All 3 rows)
o
o
o
o
o
Driver Seat Height Adjuster
-
o
o
o
o
2nd Row 60:40 Split Seats
o
o
o
o
o
2nd Row Recline
o
o
o
o
o
3rd Row 50:50 Split Seats
o
o
o
o
o
3rd Row Recline
o
o
o
o
o
3rd Row Fully Foldable
o
o
o
o
o
Comfort & Conveneince
E
S
V
V CVT
VX
Push Start With Smart Entry
-
-
o
o
o
Advanced 2DIN Integrated Audio
(AM/FM, MP3, USB & Aux-in)
-
o
o
o
o
Bluetooth Connectivity
-
o
o
o
o
Hands Free Telephone
-
o
o
o
o
Steering Mounted Audio Controls
-
o
o
o
o
FR & RR Speakers
-
o
o
o
o
Digital AC Controls
o
o
o
o
o
Electrically Adjustable ORVM
-
o
o
o
o
Electrically Foldable ORVM
-
-
o
o
o
Front and Rear Power Window
o
o
o
o
o
Front Power Window Auto Down (Driver)
o
o
o
o
o
Front Power Window Auto Up (Driver)
-
-
-
-
o
2nd Row Centre Armrest
-
-
o
o
o
Auto Door Lock By Speed
-
-
o
o
o
Seat Pack Pocket
-
As Slide
Dr & As Slide
Dr & As Slide
Dr & As Slide
Vanity Mirror
-
As Slide
Dr & As Slide
Dr & As Slide
Dr & As Slide
Cup Holders in Centre Console ( 3 Nos)
o
o
o
o
o
3rd Row Cup Holder
o
o
o
o
o
Front & Rear Door Bottle Holders
o
o
o
o
o
Head Light Off Reminder
o
o
o
o
o
Ignition Key Reminder
o
o
o
o
o
Cabin Light ( 2 Nos)
o
o
o
o
o
Seat Upholstery Material
Fabric
Premium Fabric
Premium Fabric
Premium Fabric
Leather
Leather Wrapped Steering Wheel
-
-
-
-
o
Leather Gear Shift Knob
-
-
-
-
o
Leather Pad on Door Armrest
-
-
-
-
o
Sporty 3D Speedometer with
Multi Information Display
-
-
o
o
o
Average Fuel Consumption Display
o
o
o
o
o
Instantaneous Fuel Consumption Display
-
-
o
o
o
Cruising Range Display
o
o
o
o
o
Trip Meter
Single
Single
Dual
Dual
Dual
Outside Temperature Display
-
-
o
o
o
Meter Illumination Control
o
o
o
o
o
Silver Garnish on Front AC Vents
o
o
o
o
o
Instrument Panel Garnish
-
Metal Black
Cool Mesh
Cool Mesh
Cool Mesh
Piano Black Finish on Centre Console
o
o
o
o
o
Silver Inside Door Handle
o
o
o
o
o
Safety & Security
E
S
V
V CVT
VX
Front Dual SRS Airbags
o
o
o
o
o
ABS With EBD
Diesel
o
o
o
o
Front Fog Lamps
-
-
o
o
o
Impact Sensing Auto Door Unlock
-
-
o
o
o
Front Seatbelt Pretensioner with Load Limiter
o
o
o
o
o
High Mount Stop Lamp
o
o
o
o
o
Driver Seat Belt Reminder
o
o
o
o
o
24X7 CONNECTIVITY SUPPORT FOR SAFETY, SECURITY, & CONVENIENCE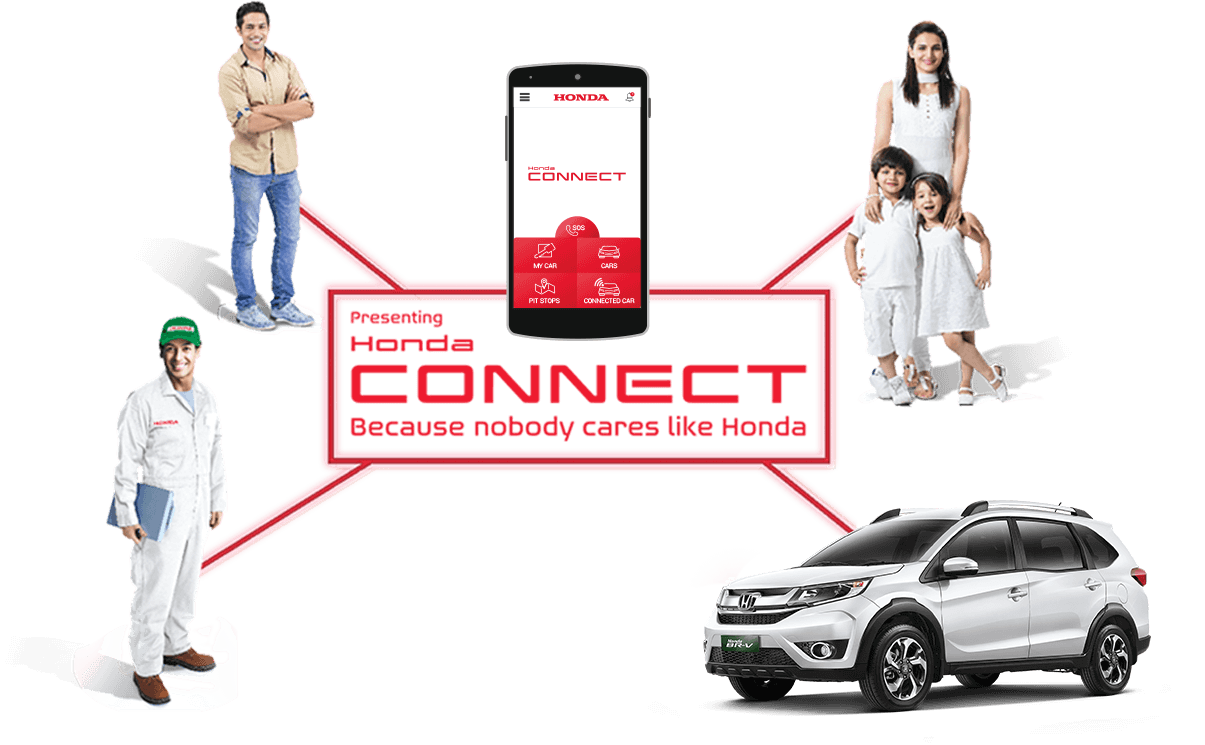 Go on an adventure with Honda BR-V